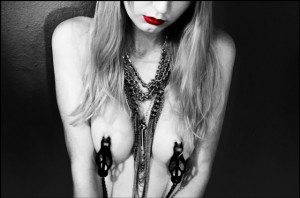 Welcome to e[lust]
- The only place where the smartest and hottest sex bloggers are featured under one roof every month. Whether you're looking for sex journalism, erotic writing, relationship advice or kinky discussions it'll be here at e[lust]. Want to be included in e[lust] #47? Start with the newly updated
rules
, come back June 1st to submit something and subscribe to the
RSS feed
for updates!
~ This Week's Top Three Posts ~
How to Shave Your Asshole
Tied and Blindfolded
Why Disney is like BDSM
~ Featured Posts (Molly's Picks) ~
Because you are so beautiful
Suspension of Disbelief
~ Readers Choice from Sexbytes ~
Dildology: The Science of Sex Toys
All blogs that have a submission in this edition must re-post this digest from tip-to-toe on their blogs within 7 days. Re-posting the photo is optional and the use of the "read more…" tag is allowable after this point. Thank you, and enjoy!
Thoughts & Advice on Sex & Relationships
The Vagina Thief
The Role of Feelings in Swinging Lifestyle
Why I Feel No Jealousy
Spontaneous
I Asked SilverHubby to Respond to a Comment
Mastering Masturbation in 7 Steps
The One Where I Face Reality
Sex News, Interviews, Politics & Humor
The Cycle of Change, Simplified
My IMsL 2013 Keynote
Thoughts & Advice on Kink & Fetish
Kink of the Week #5: Roleplay
How To find (and catch) a Male Submissive
How to be a Good female Sub
The Master's Voice
Kink of the Week #5: Roleplay
"S&M: The Dark Side of Gay Liberation", 1975
PolyAnna's Musings: Choosing Revisited
KOTW-Roleplay: W's Perspective
Brat-tastic!
Liberating the Fisherman's Wife
How much realism should be in BDSM erotica?
Erotic Fiction
Sunday Morning
Warehouse 69 Episode 2: The Marquis' Crop
Sunday Morning
Salivate
Suffer
Bend Over, Bad Kitty!
Dirty Sexy Money
Lolita Twenty-Thirteen, Part Four
Erotic Non Fiction
My First MMF Threesome
That Smile
What Wet Dreams are Made Of.....
A Good Match
I was a Naughty Girl
Jets
Right Here. Now.
I fantasize about blowjobs & being a good girl
Poetry
Things to Wear – NaPoWriMo
Blood Lust
A poem for Rose
Vanishing
Colorless
Subby Space
Blogging
Look at Me!